More Power from the Jaguar V-12




The street version of the Jaguar V-12 engine was first installed in the E-Type Series in 1971.

In 1975 the engine was upgraded to a fuel injected power plant. The all-aluminum block had iron cylinder liners with single overhead camshaft (SOHC) heads fitted with two valves per cylinder. The cylinder head had a flat block mating surface design with the combustion chamber in the shallow cup of the piston crown. Horsepower was rated at 282 to 295 HP depending on emission regulations and compression ratio. Torque was rated at 294 Ft. pounds.

Forgotten by current Jaguar V-12 owners, is the fact that this engine was regarded by many as one of the premier engines of the 1970 and 1980s. This engine powered the XJ-S to speeds approaching 150 MPH, making the XJ-S among the fastest four passenger cars of the era.

By comparison, the 1975 Corvette with a 350 cubic inch V8 engine produced 205 HP and 255 Ft. pounds of torque with a maximum RPM of 5300.

Fast forward 40 years or so (2019) and a common complaint among owners who have kept these magnificent cars running is:

I need more horsepower.

The problem is that the very innovative design of the cylinder heads that produced admirable horsepower during the dark era of emissions regulations is now the greatest barrier to creating more horsepower and torque.

The two valve flat block mating and later HE cylinder heads.

The same reason that the flathead Ford engine, along with the "Nail head" engines became obsolete is the reason the flat head and HE V-12 heads are an impediment to significant horsepower increase.

These heads, (including the later HE heads) have smaller than ideal intake and exhaust valves and smaller than ideal intake and exhaust port diameters. Intake and exhaust valve arrangements that are not ideal, have sparkplugs that (due to the flat head) are in a less than ideal place. Fuel delivery from the injectors is at the intake manifold runner instead of behind the intake valves. If thatís not enough, the combustion chamber resides in the domed out piston head instead of the cylinder head. This results in longer that ideal intake and exhaust ports. I am convinced that part of the problem of dropped valves in the V-12 engine is because the long exhaust ports results in significantly more heat transfer to the heads.

Forget about adding valve lift and duration via a custom camshaft as salvation for the horsepower deficiencies.

These heads simply do not flow enough to significantly increase horsepower.




Pictured below are the pre-HE flat heads along with design drawings for the 5.3 flat head and later HE heads.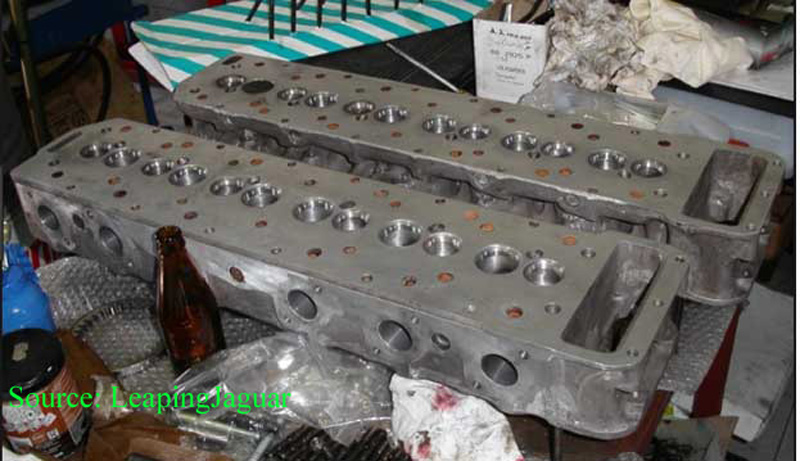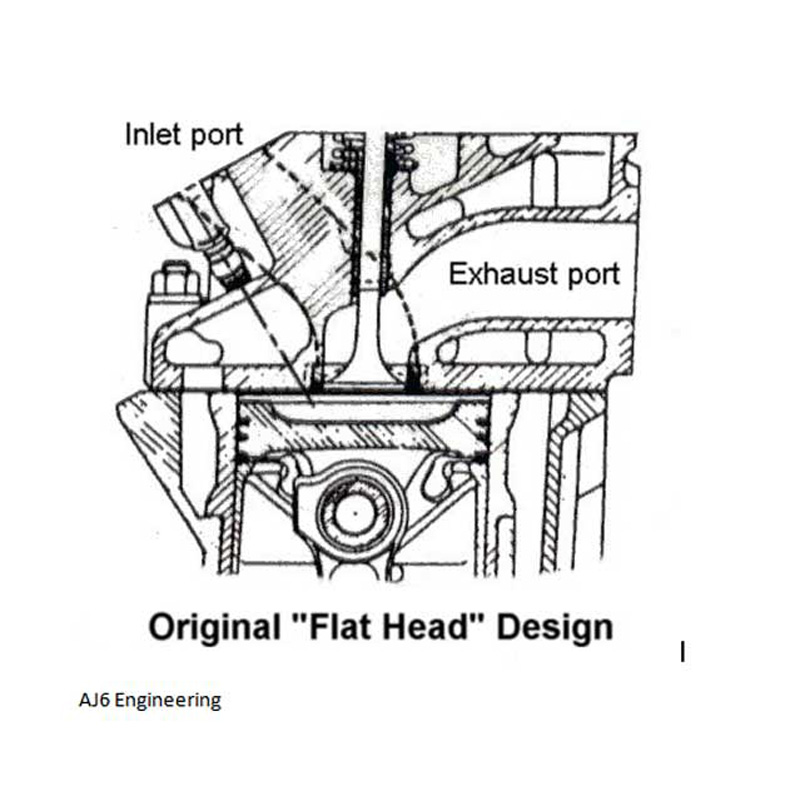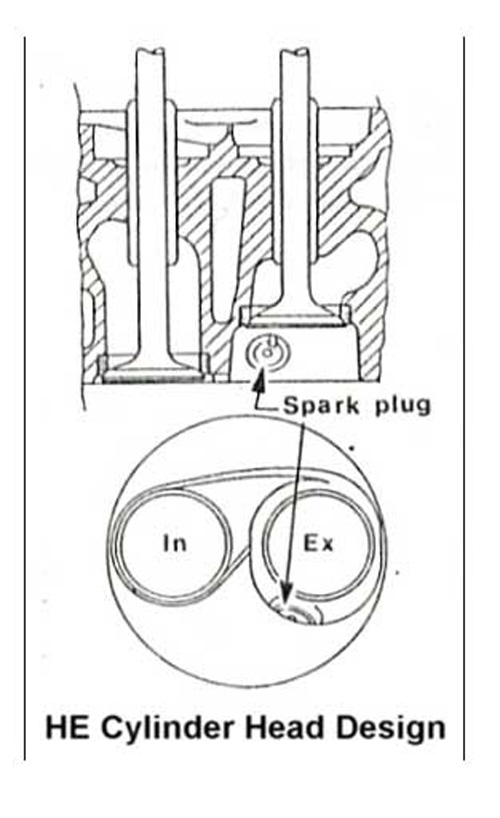 ---
No horsepower discussion involving a two valve head combustion engine can take place without mentioning the Small Block Chevrolet (SBC) engines. (Note that Chevrolet includes the LS series as a continuation of the SBC designation). Chevrolet has taken this design farther than any other manufacture. The current specs for its naturally aspirated 6.2 Liter V8 are 455 HP and 455 ft. pounds of torque. (2019)
LS cylinder head picture below. Note stark difference in design philosophy from the two valve flat V-12 engine heads. Valve locations, valve sizes, spark plug position and combustion chamber design are all significantly different.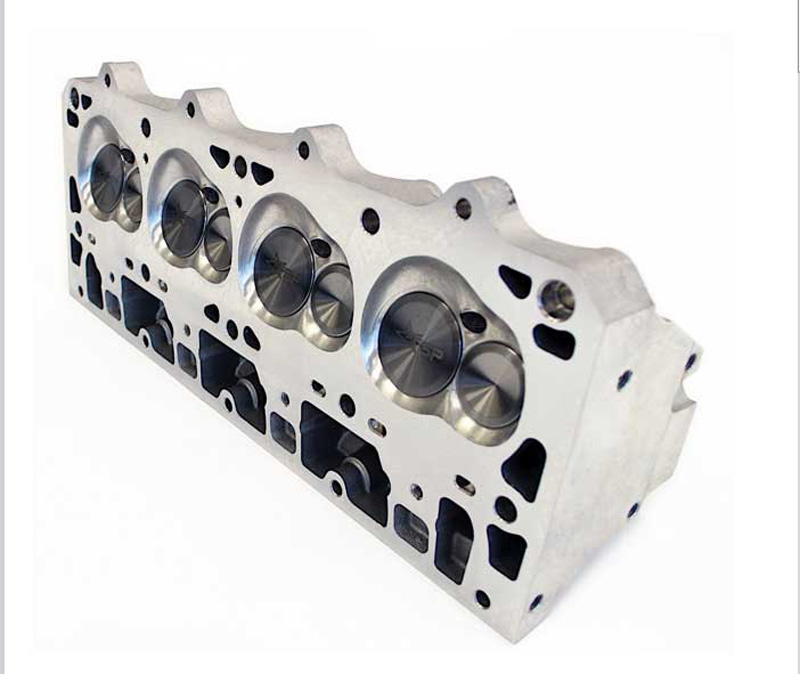 ---



Think about those numbers for a second. Chevrolet, with its vast resources and technical talent, can only get 455 HP from a naturally aspirated 6.2 liter two valve engine that meets current emissions requirements and is street able.




The argument invariably comes around to V-12 racing engines making 500 to 600 HP. My answer is always "Not with these stock heads".

If you are adamant about getting 450 to 500 HP from the V-12 engine then step one is easy.




Take out a second mortgage on your house.




The short block is probably safe to its 6500-7000 RPM limit, however unlike a Small Block Chevrolet (SBC) there are no available off the shelf performance parts for these engines.

You will need highly modified or custom heads, custom pistons, crankshaft, camshafts, larger throttle bodies and improved intake manifolds, custom fuel delivery system, and modified ECU. I would also recommend a better spark delivery system. You will probably need a longer stroke and larger capacity cylinder liners.

In addition you will need bed and breakfast privileges at the nearest engine dyno facility.

If your credit holds out you could theoretically have a 5.3 (or 6.0) liter naturally aspirated 2-valve V-12 engine putting out in excess of 450-500 horsepower. But it would probably be more of a race that street engine, having a torque and horsepower curve like the tip of a spear, making it almost completely useless for driving on the street.

You might also be homeless.


Have faith. All is not lost. There is still a way to get that 450 HP from the V-12 engine while keeping the car street able.

Pressurize.


Some time ago there was offered for sale (via auction) in England, a 1990 Lister with a 7 liter supercharged V-12 engine with a claimed horsepower of 604 at 6000 RPM. (car and engine pictured below).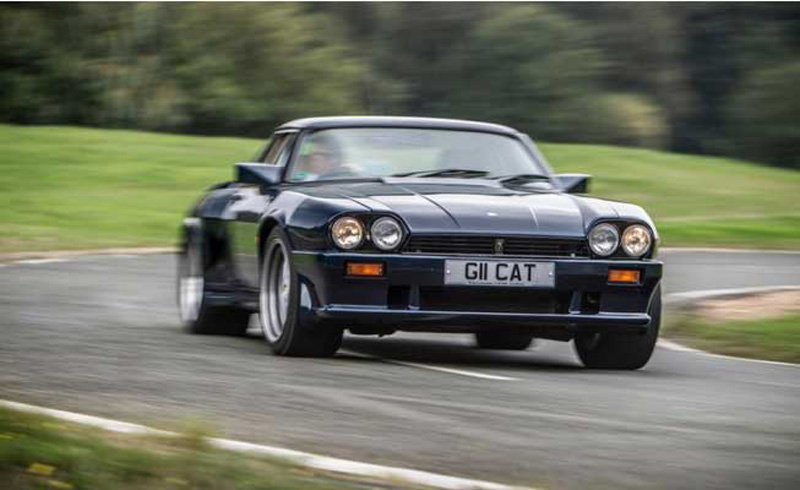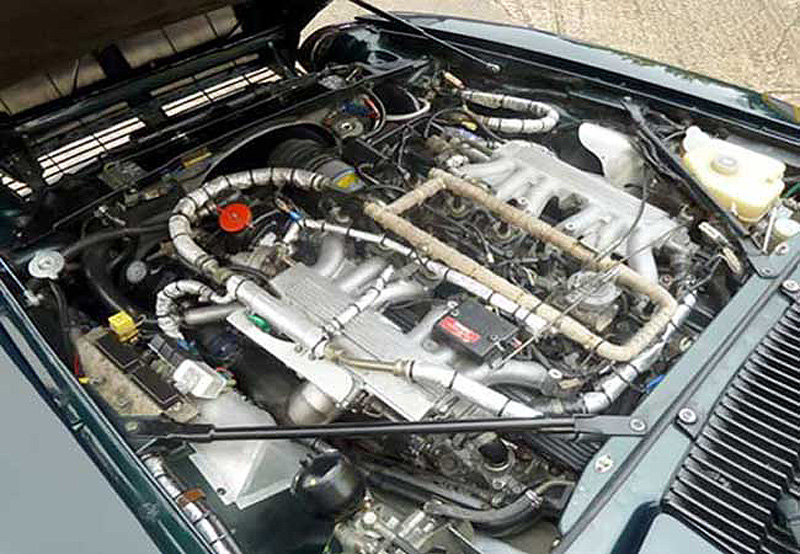 ---
Of course, those on the Jaguar Lovers list fondly remember Bradley Smith's Jaguar. Bradley resided in New Your City I believe. I lived in the NYC area during the time his car was being built and I spoke to the Motorcraft shop a couple of times. My only contact with him was during the dark day after the NYC 911 attack he offered his home to me and my family if we need someplace to stay.
His car, a 1985 XJ-S coupe was supercharged and rumored to have 600 HP in race trim? Those numbers might have been optimistic, but there was no doubt about the car and its extensive list of modifications.
The engine was built by Lee Hurley of Hesco Engineering, with the rest of the modifications performed by Brian Maletsky of Motorcraft, a Jaguar specialist in East Rutherford, New Jersey.
AFAIK, No cost figures were ever published. However based on the extent of the modifications an objective estimate would be that a significant amount of money was spent.
Below is a partial list of the modifications to his Jaguar.
---
ENGINE.




Block: Late style.

HE type heads (small plug) flowed with European valves.

GT Stage 1 cams.

Heavy duty valve springs.

Custom forged pistons.9:1 compression ratio.

TRW solid billet stroked crankshaft.

TRW race connecting rods.

High nickel cylinder sleeves, O ringed with copper head gaskets.

Large capacity oil pump.

Large capacity fuel system.

Short block balanced and blueprinted.

Twin Whipple Superchargers.

Custom fabricated and flowed aluminum intake manifolds with blow off valves.

Electronic TEC 11 direct ignition and fuel injection system.

AJ6 large throttle bodies.

MAP sensors.

Custom serpentine belt system from Doug Ring, East Coast Supercharging.

Not sure why Hesco Engineering went with the 6.0 HE style heads. IMHO, the Pre-HE heads would have been better in any and all applications. That said, pressure solves most air flow problems.




---





Note that Bradley felt it necessary to add extensive suspension modifications to handle the additional power and torque. Below is a partial list of those modifications.




SUSPENSION.

Doug Nash designed Richmond 6 speed transmission.

Custom bellhousing.

Centerforce lightened steel flywheel.

Centerforce heavy duty clutch.

Shortened and balance one piece driveshaft.

3:54 Differential.

Custom rear hub aluminum web strength fabrications.

Custom wheel studs.

Heavy duty front and rear anti-roll bars.

Heavy duty chrome moly shot-peened rear springs.

Adjustable Koni shock absorbers.

Cruciform differential brace and stabilizer.

Forgeline 17 inch forged alloy wheels with Michelin Pilot XGT Z4 Zero Pressure tires.

13 inch vented front rotors with 4 pot AP brake calipers.




Still have some pocket change left over? You still need a custom hood to clear the right side supercharger.




---



Unfortunately Bradley Smith died in October 2005, just a few years after building his dream car, the twin whipple supercharged Jaguar V-12 XJ-S.
---
So, you still want more horsepower but the wife will not let you mortgage the house. You currently have a pretty good running Jaguar with a V-12 engine.
You have two options.
1) Add intake and exhaust components along with a modified ECU that will boost horsepower marginally.

2) Change the Gearing.




---
If adding components your best one stop source is AJ6 Engineering at Henshall Rd Bollington Macclesfield, Cheshire UK.
Their recommendations include.
Cold Air Intake System see: (Installing Cold Air System).
AJ6 large throttle body kit.
AJ6 Revised intake manifolds with longer runners.
AJ6 TT Extractor header and large bore exhaust systems
AJ6 Modified ECU.
HP gains? Maybe 40 HP at 5000 RPM.
Juice not worth the squeeze?

To understand the power differences between the Jaguar V-12 6.0 liter engine and the SBC LS 6.2 liter engine it's worthwhile to compare their horsepower and torque curves.
Torque curve in orange.

Horsepower curve in white.




Photographed below is the horsepower and torque curves for the 1993 V-12 6.0 HE Jaguar engine.

---




Maximum horsepower occurs at 5400 RPM, but the significant number is the torque. Maximum torque occurs at 3000 to 3500 RPM.

This is not horrible until you realize that the standard 3 speed GM transmission does not get you into that torque range earlier enough.

In real world driving, the car feels exceptionally slow until the torque range is entered. By the time that happens that 4 cylinder Honda is long gone.




Now compare the V-12 torque and horsepower curve to that of the 2018 2-valve LS 6.2 liter engine. (photograph below).

---




Maximum torque occurs at 4500 RPM, but that is not the important difference. The important difference is when the torque starts to build.

At 1000 RPM the LS engine has approx. 290 Newton meters (Nm) or 214 ft. pounds of torque.

At 1000 RPM the V-12 engine has approx. 115 Newton meters (Nm) or 85 ft. pounds of torque.




It gets worse.




At 2000 RPM the LS engine has approx. 500 Newton meters (Nm) or 369 ft. pounds of torque.

At 2000 RPM the V-12 engine has approx. 310 Newton meters (Nm) or 229 ft. pounds of torque.

At 2000 RPM the LS engine has almost 100 more ft. pounds of torque that the V-12 engine's maximum torque output.

The LS engineís torque curve continues to rise to a maximum of 615 Mn or 454 Ft. pounds of torque.

The V-12 engine curve rises to a maximum of 385 Mn or 288 Ft. pounds of torque.

Further examination of the V-12 torque curve suggests that the Jaguar engineers emphasized horsepower over torque in the engines design. A worthwhile trade off IMHO because (as stated prior) this car had a top speed in the 150 MPH range. Note that in engine design torque and horsepower are handcuffed together. Any change to either affects the other.

See Difference between Torque and Horsepower.



My conclusion is that what you need is not more horsepower, but more low end torque. Since thatís not going to happen, you need to get to the available torque and horsepower faster in the RPM range for street driving.
For all intents and purposes, If the torque wonít come to you, you have got to go where the torque is.
Essentially, you need to gear the V-12 engine's drivetrain correctly, so the engine spends the majority of its time in the ideal torque RPM range for the type of driving you are doing, with a modified ECU that maximizes power within that ideal RPM range.
You need to Change the Gearing.
---
My suggestions are:
1) Convert to a cold air intake system.
2) Contact AJ6 Engineering for a modified ECU.
3) Change the gearbox from the 3 speed automatic to a 5 or 6 speed automatic. I know owners have had success going to a 4 speed automatic gearbox. But why stop there? There a many sources for custom bellhousing adapters and the necessary electronics to make these transmissions work.
4) Change the gearbox to a 5 or 6 speed manual gearbox. Clutch pedal boxes might be hard to come by, but there is no one better at modifications than vintage Jaguar owners.
(Note: Choose carefully. These gearboxes, both automatics and manuals, must have lower first gears than the 3 speed Hydromantic, getting you into the engines ideal torque range sooner.)
5) Change the diff ratio to a 3:54.
Drive Safe.